The entire greyhound racing fraternity was deeply saddened and shocked by the tragic passing of much loved and highly respected Devon Meadows greyhound breeder/trainer Karen Leek, 69, on May 26.
The emotional outpouring from all sectors of the sport has been unprecedented, with a myriad of industry participants providing touching tributes.
It goes without saying that Karen was admired for her caring personality and professionalism and gained a wide sphere of respect from all walks of life.
Perhaps the most moving of tributes have come from three of her dearest friends – Angela Modra (nee Renshaw), Sandra Reed (nee Hogan) and Sophie Hili.
All three have high profile greyhound racing backgrounds – Angela trained champions Lufra Boy and Silver Saul and worked for legendary veterinarian, the late Dr Jim Gannon; Sandra, who was a top trainer in her own right, is the daughter of late training great and long-serving SGRC committeeman Paul Hogan; and Sophie is the wife of late training doyen Joe Hili.
Angela, whose son Mark will deliver a eulogy on her behalf, said she had a wonderful friendship with Karen for 56 years.
"I had moved to Warrandyte and met Karen when I was 18 and she was only 13," Angela said. "Initially, it was through our love of horse riding that the friendship developed."
However, it wasn't long before Angela – who was working for Dr Jim Gannon at his Kew clinic – introduced Karen to a couple of young pups which they "took out into the bush with us when we went riding and that's where her love of greyhounds began".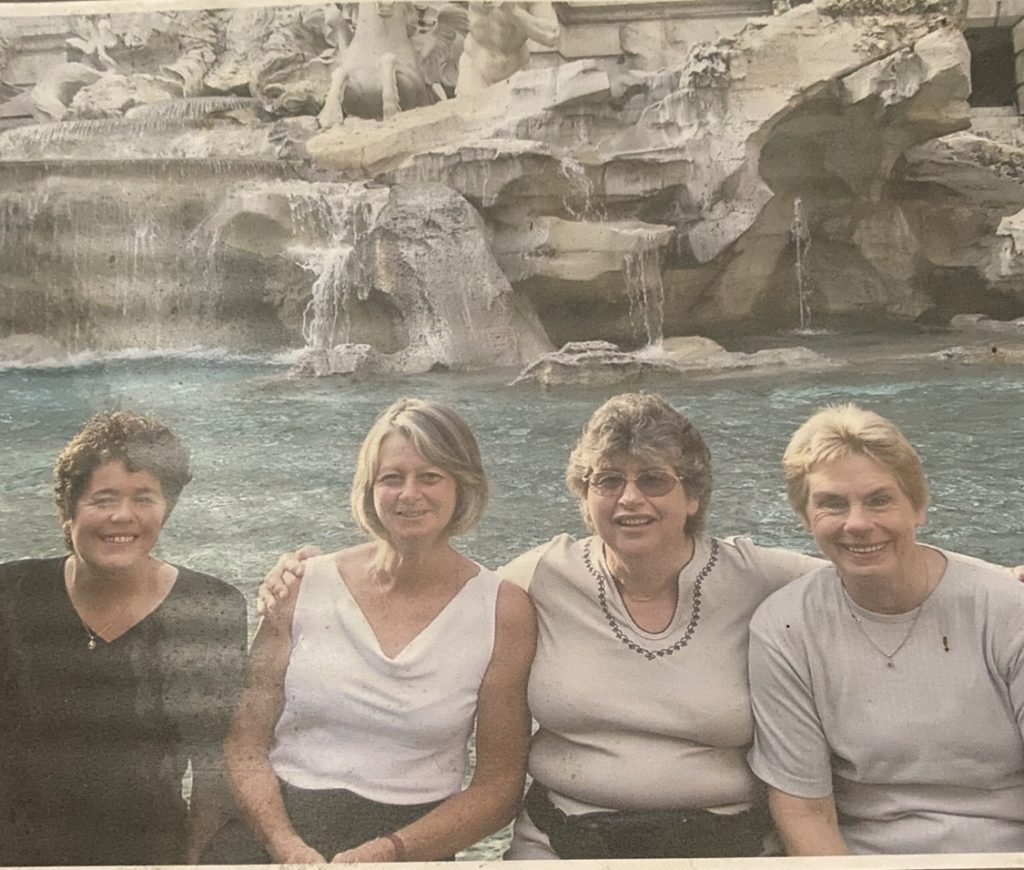 PICTURED: Greyhound racing royalty (from left) Linda Britton, the late Judy Hayley, Sandra Reed and the late Karen Leek outside the Trevi Fountain during a European holiday. More images below courtesy BlueStream Pictures.

In 1969, Karen and Sandra accompanied Angela on a trip to race her champion Lufra Boy in Sydney. The young ladies had such a great time, that not long after they returned to live in Sydney for a short period.
Angela said Karen was always there in "the special times of my life – happy and sad".
"But the most memorable of all was when my baby Mark was born. She was there holding him in her arms only three hours after his birth.
"And I taught her three things: how to clip and groom dogs, how to train greyhounds, and how to smoke," Angela quipped.
Sandra Reed said she was extremely grateful to have known Karen for 55 years.
"Her dedication to the industry cannot be underestimated; she mentored so many people."
"Karen was a kind and caring person who worked hard to be successful in life. She was always forgiving and ready to help anyone in need. Her dedication to the industry cannot be underestimated; she mentored so many people."
Sandra said she first met Karen through Angela, who was training Lufra Boy at the time.
"The three of us went to live in Sydney for six months. It was 1969, and we lived in a beach house near Wollongong. Karen was working as a barmaid but then moved to Wangaratta with her mother Voila and became involved with its greyhound racing community."
Eventually, Karen worked for Sandra at Rowville for eight years. "She even helped with my kids; in fact, my first son, Steven, is Karen's godson. I ran a dog grooming salon and she eventually took over the business. But ultimately, she dreamed of becoming a professional greyhound trainer."
Subsequently, Karen and her mother Voila bought Bernie Strong's 'Keysborough Kennels' and Sandra advised her that to be successful in business she needed to "be at the top of the phone book". "So, she renamed the property 'Abba Kennels', which had nothing to do with the Swedish pop group."
Sandra made a return to dog clipping and grooming on a part-time basis for 10 years at Abba Kennels which Karen and Voila also ran as a boarding kennels, cattery, and greyhound training facility for around 20 years.
"Karen and I remained close, and our families would get together for birthdays and at Christmas. We had booked to travel to Alaska and Canada in August, but the trip had to be cancelled due to COVID-19. We had a lot of fun times together – holidays and horse riding. Karen will be greatly missed."
"Even when she was flat-out busy, she would take time to advise and help people. And she would go without to give to her greyhounds."
Sophie Hili said she and Karen went on shopping trips every Friday to Southland.
"For many years she was also a part of our monthly 'girls' lunch', along with her late mother Voila. It started with a group of 11 around 40 years ago, but we're now down to six."
Sophie, who knew Karen for 30 years, said in more recent times "she'd pop in for a coffee at my place prior to picking up her great-great-niece 'Addy' at a nearby child minding centre".
"Karen would help anyone. Even when she was flat-out busy, she would take time to advise and help people. And she would go without to give to her greyhounds."
Sophie added that Karen's greyhound complex at Devon Meadows was immaculate.
"She was a hard worker and so was her mother. She looked after her mum unbelievably – even when she went into a nursing home a couple of years ago, Karen would be there six days a week."
We've lost a greyhound racing 'archangel'… Rest in peace, Karen.
Pawnote: Wantirna-based Heritage Funerals is conducting an invitation-only ceremony for Karen and has also organised a live stream of the service to be held in Sandown Greyhound Racing Club's 'View' room on Tuesday, June 23 at 2pm.
Karen's 'puppy love'
Karen Leek enjoyed great success over several decades as a breeder and trainer, however her record as a commercial rearer is arguably what set her apart in the industry.
Perhaps no other person in Victoria's history has reared other people's young pups with as much success as Karen.
The list of greyhounds she reared include: Bewildering, Brokenwood, Extreme Magic, Godsend, Moreira and Nolen.
Karen also trained greyhounds the ilk of dual Melbourne Cup finalists Relle Louise (1979-80) and Proud Paul (1983-84) – who also finished third in the 1983 Silver Chief and is a younger half-brother of Relle Louise; Copper Lady (1984 Melbourne Cup finalist); Pamlanat (1979 Laurels finalist); Pretanni Belle (runner-up 1983 Sir Arthur Rylah Sapphire Classic); and Din's Son (winner 2010 Shepparton Cup).
Karen was also a major contributor to greyhound racing administration, including volunteering her time on various panels for the betterment of the sport and being a member of the Greyhound Owners Trainers & Breeders Association (GOTBA).
She was also heavily involved in the nominations and committee of the Greyhound Racing Victoria annual awards, siting on both the Greyhound of the Year panel and the Hall of Fame committee
Karen and her late mother Voila were also joint proprietors of 'Abba Kennels' in Keysborough for around 20 years.