Back In A Flash will contest the Gr.3 Rich Hill Stud Taranaki Breeders' Stakes (1400m) at Hawera on Saturday Photo: Trish Dunell
Andrew Calder is looking forward to being reunited with the in-form Back In A Flash in the Gr.3 Rich Hill Stud Taranaki Breeders' Stakes (1400m) at Hawera on Saturday.
Calder has been serving a suspension since September 29, but it certainly hasn't been an idle downtime for him during his absence from the raceday saddle as he has been looking after the team for his father-in-law, Pukekohe trainer Richard Collett, who is in Singapore with his wife, Judy, catching up with their daughter, Alysha.
"Richard went over last week after the Avondale trials and comes back on Wednesday, so I've been in charge of the team," Calder said.
"It's kept me busy enough, but I'm enjoying it. It'll be good to be back riding, though, and Saturday will be my first day back. It's great to be back on Back In A Flash.
"She has won her last two races very well, but I haven't been able to ride her. There is a bit of rain forecast for down there this weekend and that will suit her."
Calder has been aboard Back In A Flash in four of her seven wins, including last August's Taranaki Challenge (1400m), and finished fourth on her in the Gr.3 Rotorua Stakes (1400m) in May before an eighth in the Listed Ag Challenge Stakes (1600m) at Wanganui.
"Wanganui was just too heavy for her that day, but she's come back well," he said. "She should be a top ride on Saturday."
Calder returned from a successful lengthy stint in Macau last April and kicked home 44 winners last year, including a couple of black-type races, and has started the current term with seven wins.
"It took a little while to reshape my style again after riding in Macau, but I'm happy with the way it's all going," he said.
"Things are going well for Alysha riding in Singapore, too. She has ridden seven winners and all have been in nice races. Being light has been an asset to her.
"She had two winners last Friday week and is suspended now so it's a good time for Judy and Richard to spend more time with her. She's got a six-month licence which ends in December and will be looking to apply for an extension."
The Collett stable has been very quiet on the racing front so far this season with just five starters, but last Tuesday's Avondale trials showed the team is ready to fire up.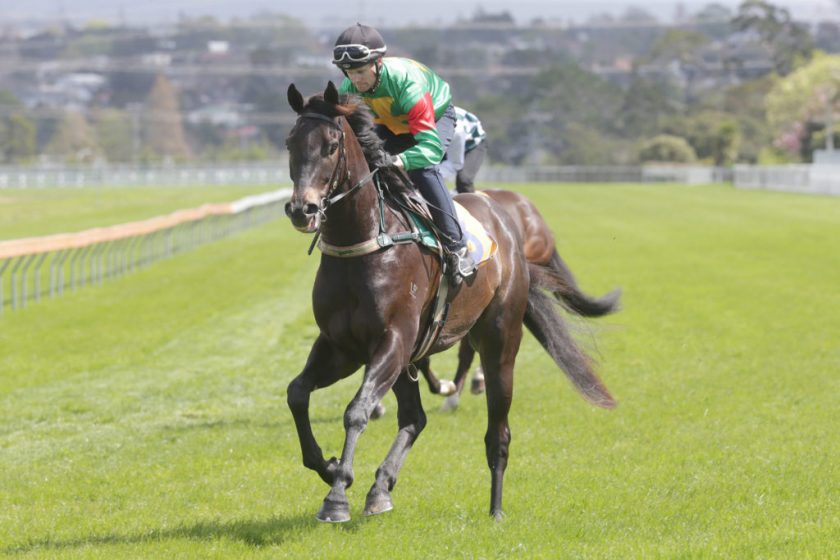 Super Pursuit Photo: Trish Dunell
"We had seven in at the trials and, though the track was heavier than we wanted, they went well," Calder said.
"About four or maybe five of them will run at Te Aroha next week and we will split some for Avondale on the Friday. They'll go wherever the track is best."
Among the squad will be Super Pursuit, a lightly tried maiden who still holds a nomination for the Gr.1 Al Basti Equiworld New Zealand 2000 Guineas (1600m) at Riccarton next month.
The three-year-old Proisir gelding is a half-brother to Dijon Bleu, the 2017-18 New Zealand Bloodstock Filly of the Year and winner of six races, including the Gr.2 Cambridge Stud Sir Tristram Fillies Classic (2000m) at Te Rapa, and runner-up in the Gr.1 New Zealand 1000 Guineas (1600m) at Riccarton.
Super Pursuit was placed in his two starts last season and is unbeaten in his two recent trials, both at Avondale with Calder aboard.
"He beat Chiaretta in his trial last month and that form has stacked up well with Chiaretta winning at Te Rapa last week and he trialled up really well last week," Calder said. "He got held up on the corner, but when he got into stride he really ate up the ground and won nicely.
"He's very talented, but still very much a kid. He's got an enormous stride on him and he wants to go 1400m to 1600m now and being a half-brother to Dijon Bleu he could even get out a bit further later on.
"He's grown a lot since his two-year-old prep and is a nice, strong three-year-old and certainly up to black print.
"Richard has left him in the 2000 Guineas as you never know now what will happen between now and then. He's resigned to the fact he might not get there, but if he wins first-up really well there's a chance. Catalyst looks the winner, but the rest look very open.
"He'll run at Te Aroha over 1200m next Wednesday and there's also the Avondale option if the track looks better there."
Also likely for Te Aroha or Avondale is stablemate Super Strike, a son of Super Easy who was second at last week's Avondale trials after a debut trials win at Matamata in March and a third at the Cambridge trials.
"We've got a lot of time for him, too, and he is much the same as Super Pursuit so we'll look at trying to split them," Calder said.
"He was really impressive in his first trial then went shinsore so he wasn't going to get to the 2000 Guineas, but he's going to make a lovely three-year-old."