In the UK the Owners and Breeders have pooled resources to produce this high-quality monthly magazine. Why couldn't it happen here in NZ?
by Brian de Lore
Published 29 November 2019
The headline isn't true, but such a merger which in
principle is supported by NZTR, could give stakeholders much more grunt and a
stronger voice in the future running of the thoroughbred industry.
In an industry that has contracted significantly over a
long time, why would these sub-stakeholder groups not want to cut their cloth
accordingly by standardising and combining the memberships and running a leaner
and more efficient administration from a single base?
Speaking from his Petone office this week, NZTR CEO Bernard
Saundry said there had been discussion in the past on the merging of
stakeholder groups and that NZTR was not opposed to the concept.
We are living in a world of rapidly changing times that's
becoming increasingly globalised and in which amalgamations and scale of operation
are the keywords and phrases for long-term survival. The common denominator for
these three groups is prizemoney – the single component that would provide an
incentive for members of all three associations.
After all, how many racing people crossover to two or even all three associations. Plenty of trainers, of which there are 800 members in New Zealand, are involved in both breeding and racehorse ownership. Many of our breeders also have thoroughbreds in training, and on their own, the Owners' Association may have a less active voice but in principle should be the most influential body of the three, given the cost of running racing falls back on all owners as a collective. Racing Minister Winston Peters also acknowledges that owners are the most critical group in racing.
Membership of the Trainers' Asociation comes each year with
the renewal of the license to train, and the 800-odd members are more-or-less
equally divided between A, B, and C Class licenses. The Breeders' and Owners'
Associations memberships are, however, voluntary and that's where changes need
to occur through NZTR.
Thirty plus years ago the membership of the Breeders' was
as high as 5,000, according to CEO Justine Sclater. By 2007 it had dropped to 2,250
and today it's only 1,289, although active promotion has increased it over the
last 12 months with an annual cost of $195 which is a sub not altered in five
years.
Just as ownership has evolved from single owners and small partnership teams of owners to big syndicates, the breeding industry has transformed over the years – but in the opposite direction. In the final year at Trentham in 1987, the catalogue offered 480 yearlings from 150 individual vendors. In 2019 at Karaka the Book One sale catalogued almost 700 yearlings provided by just 50 vendors. The trend towards fewer vendors results in more efficient marketing and preparation by the bigger studs plus the loss of smaller breeders who have gone from the game.
The Owners' Association through President Bernard Hickey is
actively driving membership and currently has between 900 and 1,000 members who
pay only $60 each annually or $65 for dual husband-wife membership at the same
address.
The Owners' Association produces six bulletins per year
which are subsidised by NZTR. But like the trainers and breeders, the income derived
from membership is limited by scale and limited in achieving meaningful
benefits.
In the Size and Scope Report released 18 months ago by NZRB
in May, 2018, New Zealand had 3,705 thoroughbred breeders and 15,951 owners, so
the potential exists for substantially increased membership for both
associations through compulsory membership which would require a rule change at
NZTR.
For the breeders, membership could potentially be calculated
on a per mares basis – over 6,000 mares currently reside in New Zealand. If
that method isn't fair on larger breeders then a standard fee for any breeder
with five or more mares or perhaps several tiered levels – collected by NZTR
with broodmare returns. For owners, a compulsory membership for any single
owner with five percent or more of any registered racehorse would be possible.
Idealistic? Yes, it is. How likely is it to happen? No
chance at all; it would require a level of cooperation never previously known
in our administrative history.
In the UK, the Thoroughbred Owner-Breeder is published monthly as a joint-venture between the Racehorse Owners' Association (ROA) and the Thoroughbred Breeders' Association. It goes out to 8,000 subscribers with an annual sub of 55 pounds and is said to have an average readership of 20,000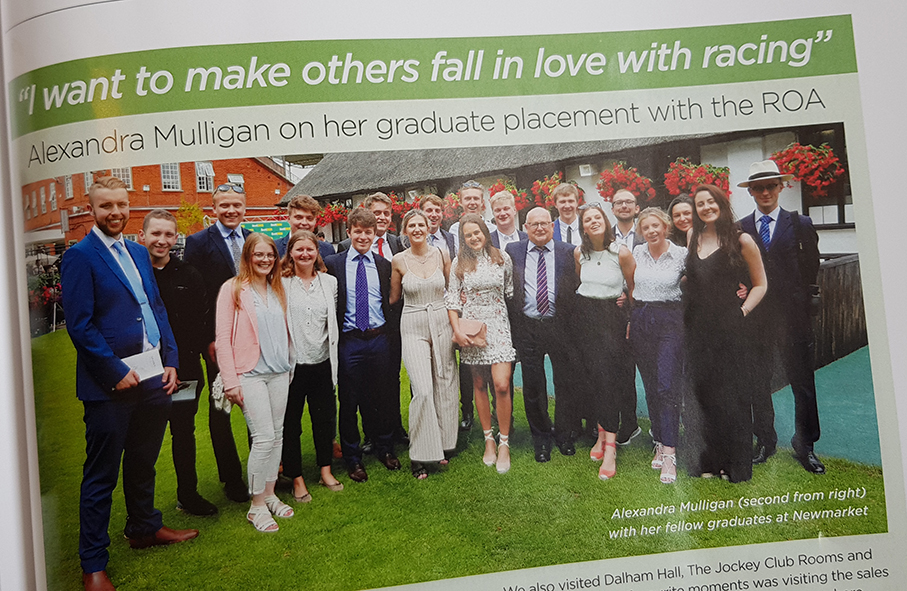 It's an outstanding publication full of interesting
articles and vital facts on racing and breeding; a high-quality publication in
the mold of the once-prized British Racehorse and Pacemaker Magazines.
The benefits available to the UK Thoroughbred Breeders' Association
membership are substantial including a whole range of services – employer support,
tax and legal hotlines, buying group discounts, guidance documents, events,
regional days, training courses, seminars and race badge offers.
Racehorse Owners in the UK also get a great deal with all
sorts of offerings including privileges at many of the courses, special
lunches, behind the scene tours, car parking, and discounts, as well as
offering dedicated facilities for syndicates.
Digital is fine, but who wouldn't prefer a high-quality
publication in their hands. Communication is everything in the horse business, and
since the demise of The Informant in March and no replacement until Raceform
makes its debut, the eight-month void has definitely cost the TAB a lot of
turnover and lost some participants permanently.
Raceform is scheduled to go on sale for the first time on
Thursday next week, replacing Best Bets which published its final issue yesterday.
The post Breeders, Owners and Trainers merge for stronger stakeholder representation? appeared first on .